Leave a Comment
At Action Bearing we are fully dedicated to our customers, and take pride in making outstanding products as well as providing accurate documentation of their performance. Our bearings are engineered and manufactured with the highest levels of precision, and uphold the highest quality standards, however, no bearing lasts forever. So how can you be sure that your bearing will perform well throughout its life?
Rolling element bearings are known for being extremely reliable, and many even outlive the machines on which they are installed.  However, several factors can shorten a rolling element bearing's life, and load and speed are the most common causes for early failure. A load that exceeds the bearing specification can accelerate fatigue, shorten its life up to a factor of 8-10, and a speed exceeding the veering specifications can also dramatically decrease a bearing life. Other factors like extreme temperatures, vibrations, and dirt or contaminants play an important part in a bearing's life.
Nevertheless, if a bearing was selected correctly and used for the correct application, it will surely last for the specified lifetime (and probably longer).  Listed below are approximate values for bearing life (measured in operating hours) that you can expect for different applications: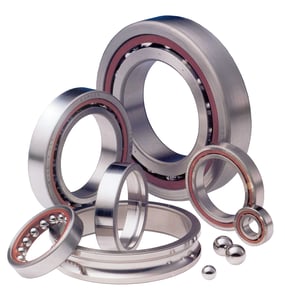 Hobbyist's power tools: 100-150 hr
Professional power tools: 100-1000 hr
Household appliances: 200-3000 hr
Agricultural machinery: 500-5000 hr
Tractors: 5000-12000 hr
Cars and trucks: 800-10000 hr
Trucks generally have a longer bearing life by design than cars
Hydraulic systems: 1000-20000 hr
Bearings in stationary hydraulic systems generally outlast bearings in mobile hydraulic systems
Office and data processing machinery: 1200-16000 hr
Material handling equipment: 2000-18000 hr
Rolling mills: 2000-20000 hr
Compressors: 3000-20000 hr
Building material machinery: 5000-50000 hr
Crushers: 13000-40000 hr
Extruders: 20000-50000 hr
Industrial gearboxes: 20000-50000 hr
Textile machinery: 20000-70000 hr
Printing presses: 35000-100000 hr
Paper machinery: 75000-150000 hr
Action Bearing is here to help you get the most out of your bearings.  For years our experienced team has been providing high quality bearings across a large span of different industries. Consult with us, and we'll make sure your bearing lives a long, full, productive life.  For more information on which kind of bearing is best for you, visit our Catalog and Technical Toolbox web pages.